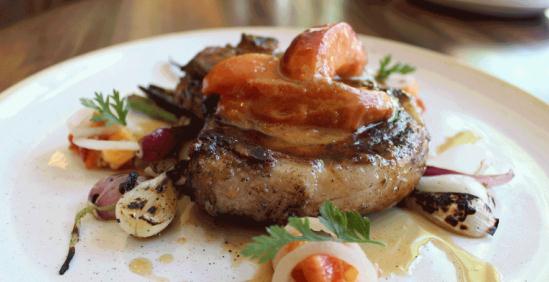 The meat's versatility and low price inspire new menu items
It wasn't long ago that the thought of eating pork in a restaurant melted away after breakfast.
Sausage or bacon were expected options for the morning meal, but apart from bacon on a burger or pepperoni or sausage on pizza, beef and chicken dominated at lunch and dinner.
To be fair, they still do, but pork has been coming on strong for the past several years as comparatively stable pricing — except for belly — and consumers' increasing appreciation of the meat have encouraged chefs to find different applications for it.
Pork chops on the rise
The grilled, balsamic-glazed pork chop at Brio Tuscan Grille is the 65-unit casual-dining chain's bestselling limited-time offer, according to Brian O'Malley, president and CEO of Bravo Brio Restaurant Group Inc., based in Columbus, Ohio.
The pork chop is brined and marinated, and served in a maple balsamic glaze with sweet potatoes, mushrooms, pancetta, Brussels sprouts and caramelized onion, priced at $21.95.
"People are finding a lot of different avenues to use pork," O'Malley said, adding that the chain typically offers two pork entrée limited-time offers each year among its quarterly specials.
"It typically ends up being the No. 1 seller … whether it's fall flavors [like the current item] or springtime berry-like flavors," he said.
Given pork's low price compared with beef, the restaurant can offer larger portions at lower prices.
"You put out a 9-ounce pork chop — it's impressive when it hits a plate," O'Malley said. "I always see pork as value-added because of the quantity that you can put on the plate."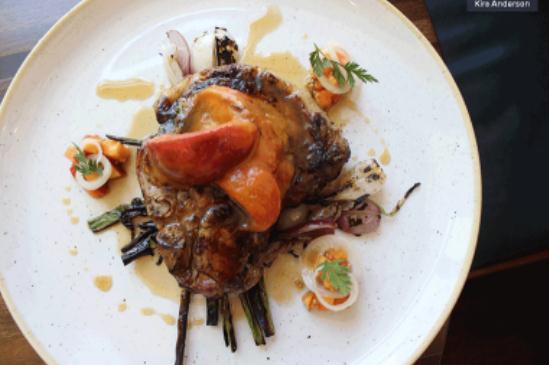 Coda di Volpe pork chop
Both Brio Tuscan Grille and sister chain Bravo Cucina Italiana, which has 51 units, have pork chops on their permanent menus, and rotate chops and loins as limited-time offers.
O'Malley said his chefs like pork's versatility, and because it gives customers a relatively unusual experience compared to chicken or beef.
Other restaurant chains have also recently added pork chops to their menus.
BJ's Restaurant & Brewhouse introduced a pork chop as a permanent menu addition earlier this year at its 187 locations. The chop is rubbed with barbecue sauce and is priced $16.50, with two sides.
Perkins Restaurant & Bakery added a 10-ounce maple-glazed pork chop to its permanent menu for around $12.95, with two sides. Prices vary by location.
Carnitas catch on
The volume of pork sold in foodservice has increased dramatically since 2011, according to a study commissioned by the National Pork Board.
Annual usage has increased by 1.1 billion pounds since then, an increase of 3.5 percent. The next fastest-growing protein, turkey, grew by 1.2 percent.
Much of pork's growth has been in ever-popular bacon, breakfast sausage and pepperoni. But there has also been growth in ribs and processed ham.
Since 2015, sales of carnitas have grown 5 percent annually.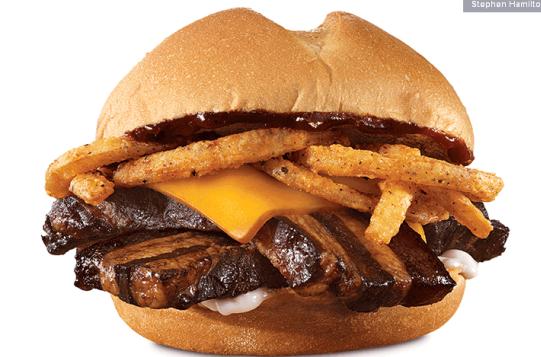 Arby's pork belly sandwich
Carnitas, a Mexican preparation of shredded braised pork, have been available at restaurant chains for a couple of decades, thanks to Chipotle Mexican Grill, which was founded in 1993.
The latest national chain to introduce carnitas is Cheyenne, Wyo.-based Taco John's, which rolled the item out as a limited-time offer, from late March through early June, at its 387 locations.
The carnitas were marketed as a Pork Carnitas Quesadilla Taco — with roasted salsa verde, lime sour cream, lettuce and pico de gallo in a tortilla — but were available in any other preparation by request. The item was priced at $1.99.
"We've gotten countless requests to include pork carnitas on our menu, so we're really looking forward to rolling them out in an exciting new way," Bob Karisny, Taco John's vice president of menu strategy and innovation, said in a statement at the time.
Carnitas were so successful that in late August, Taco John's brought them back in the form of a breakfast taco with scrambled eggs, blended cheese and salsa verde, available through late October.
Porchetta crosses over
Sales of porchetta — an Italian preparation of boneless, rolled pork, often wrapped in herbs — have grown 15 percent annually since 2015, according to a study by the National Pork Board.
Porchetta has largely been a specialty of independent restaurants, such as Coda di Volpe in Chicago, where chef Chris Thompson buys whole Berkshire hogs from Catalpa Grove Farm of Columbiana, Ohio.
The hogs come in halves, split and eviscerated. Thompson cures much of the meat into cold cuts, and makes head cheese out of the head, which he then slices thinly, coats in flour and serves with a pole bean salad.
He serves pork chops and roasted shoulder, as well as porchetta, "giving us a chance to rotate the menu and use different parts of the pig," he said.
"A pork chop is always a crowd pleaser," said Thompson, who is currently offering a bone-in, 16-ounce chop with oven-roasted peach mostarda, pickled mustard seed, grilled peppers and pork reduction, priced at $36.
The porchetta is made from the whole belly, which is seasoned with sodium nitrite, kosher salt, lemon zest, minced fennel fronds, rosemary and bay leaves, and thinly sliced garlic.
The porchetta is rolled up, trussed and cooked sous-vide for at least eight hours at 170° Fahrenheit, breaking down the connective tissues, "so they become really nice and soft and melty," Thompson said.
It's then transferred to a convection oven to crisp the skin. The porchetta is sliced and portioned for an entrée or open-faced panuzzo sandwich. The order is crisped before serving in a hot oven or on a grill, "so the whole skin blisters and turns into a giant chicharron," he said.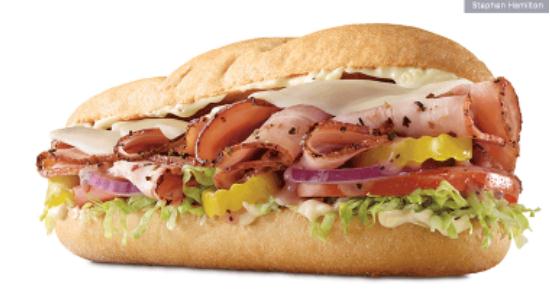 Arby's smoked Italian porchetta sandwich
Arby's became the first large quick-service chain to serve porchetta when it rolled out two sandwiches with the meat in late July as month-long limited-time offers at its 3,200 restaurants nationwide.
The porchetta was produced by Sadler's Smokehouse of Henderson, Texas, which also provides Arby's with its smoked brisket. It was made by wrapping loin in pork belly and smoking it for eight hours.
The meat was used in two sandwiches. The Smoked Italian Porchetta sandwich was made with porchetta, melted provolone, lettuce, tomato, red onion, banana peppers, red wine vinaigrette and garlic aïoli on a toasted sub roll, priced at $5.49.
The Mount Italy Sandwich had a similar build, but with salami and smoked ham on a toasted star top roll, priced at $6.99.
Near the end of the promotion, Arby's executive chef Neville Craw said the sandwiches were selling well.
Another quick-service chain to experiment with pork is 1,900-unit Panda Express, which will introduce Peking Pork in September.
The dish consists of lightly battered and fried bite-sized pieces of pork loin with green bell peppers and onions in a sweet-and-sour glaze, starting at $3.90 à la carte.
"Pork is a crowd favorite in Chinese culture, and Panda is using the opportunity to introduce Americans to a traditional Chinese dish with modern American flair, tapping into the emotional connection of comfort food," Panda Expresses director of culinary innovation Jimmy Wang said in an email.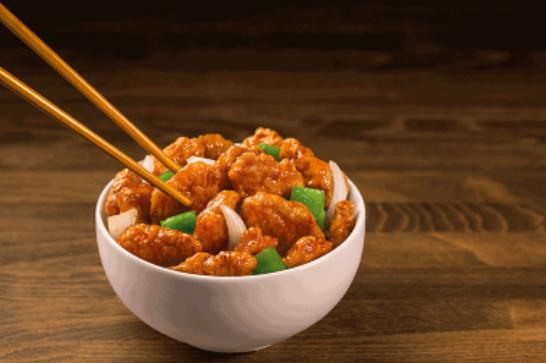 Panda Express Peking Pork
Belly boom
Bacon is ubiquitous on menus, but references to pork belly -- the cut from which bacon is made -- are spreading rapidly, according to Datassential. The menu research firm reported that pork belly appears on 81 percent more menus than it did four years ago.
"Pork belly has definitely taken center stage on menus over the past few years," said Matt Fish, owner and founder of 10-unit Melt Bar and Grilled, based in Cleveland.
That's a challenge, since pork belly prices are currently high. In July, pork belly prices were up 50 percent over the same time last year, according to DeWayne Dove, vice president of supply chain at restaurant purchasing cooperative SpenDifference.
However, prices seem to have peaked.
"We are starting to see this item trend down, and expect the downward trend to continue through Q4," Dove said in an email.
Arby's was relatively quick to jump on the pork belly trend, too, with the introduction in April of a Smokehouse Pork Belly Sandwich as a limited-time offer through May. The sandwich featured three pieces of thick-cut, smoked belly; melted, smoked cheddar cheese; fried onions; barbecue sauce and mayonnaise on a toasted specialty roll, priced at $5.49.
Matt Fish of Melt Bar and Grilled added pork belly in the Korean War Pig sandwich. It features seared pork belly and pulled pork in a Korean barbecue glaze made with diced onions, white sugar, the Indonesian chile sauce sambal oelek, minced garlic, sliced onions, black pepper, pineapple juice, rice wine vinegar and sesame oil.
Melt Bar and Grilled Korean War Pig sandwich
The two types of pork go on a grilled sandwich with kimchi slaw, pear-cilantro relish and Muenster cheese. The item is priced at $11 for half a sandwich and $15 for a whole sandwich.
"Any time you present pork in multiple levels [such as belly and pulled pork], it resonates really well with guests," Fish said.
He did the same with the Cuban War Pig, which is based on a traditional Cubano sandwich. The item is made with honey ham, mojo-glazed pulled pork (the mojo is made with lemon, lime and orange juices, plus thyme and brown sugar), two fried pickle spears, honey mustard and Swiss cheese. The item is priced the same as the Korean War Pig. Both sandwiches are named for the Black Sabbath song "War Pigs."
"They're two of the bestselling sandwiches on the menu," Fish said.
Source: NRN.com