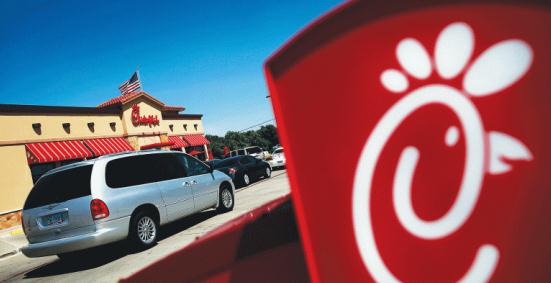 Piper Jaffray report reveals ongoing shift toward limited service
The long march toward limited-service restaurant brands dominating teen spending shows no signs of stopping, according to a new report from investment firm Piper Jaffray.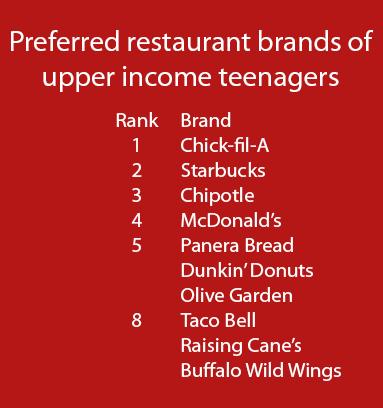 Quick-service and fast-casual concepts have gained share over the course of the 19 consecutive surveys, Piper Jaffray analysts Nicole Miller Regan and Joshua Long wrote in a report released Tuesday.
"In spring 2009, full-service concepts had a 57 percent preference, which has slowly shifted toward a preference for limited-service concepts now at 65 percent in spring 2018," the authors wrote.
"We believe this dynamic can hold steady as fast-casual concepts continue to gain overall dining share and as traditional quick-service restaurant brands continue to evolve their offerings in response," the analysts noted.
"On the full-service side," they said, "we note that many brands are adopting new sales platforms (such as takeout and delivery) and introducing new culinary innovation, which could help the full-service segment regain a portion of its share of preference over time."
Piper Jaffray surveyed teens in two income groups. For the upper-income teen survey, Piper Jaffray surveyed about 1,400 students with an average age of 16.4 years and household income of $83,000 and above. The weighted average household income for the group was about $100,000. For the average-income teen survey, the firm surveyed about 4,600 students with an average age of 16.4 years and a household income of less than $83,000. The weight average household income for that group was $56,000.

Starbucks, McDonald's, Buffalo Wild Wings and Chick-fil-A remained highly preferred brands among all teens participating in the survey, which asked respondents open-ended, fill-in-the-blank questions for their favorite brands.
"Chick-fil-A regained its position as the most preferred brand among upper-income teens and maintained its position as the second most preferred brand among average-income teens," the report said.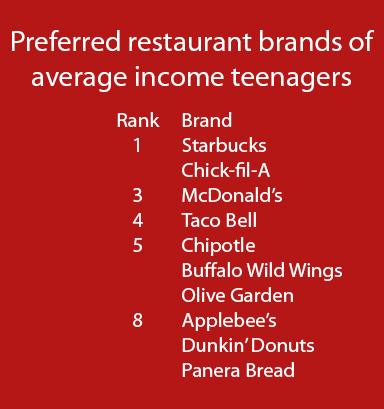 Starbucks was the only publicly owned brand "to consistently maintain top mindshare preference among teens." The coffee giant achieved 12 percent preference among upper-income teens surveyed, up from 11 percent in the fall survey. Among average-income teens that figure was 9 percent, down from 12 percent in the fall study.
Chipotle "remained the overwhelmingly most-preferred upper-income teen brand within the Hispanic cuisine category at 53 percent mindshare and remained just slightly behind Taco Bell among average-income teens (similar to our fall 2017 survey)," the analysts said.
McDonald's maintained its position as the most preferred hamburger brand, but the results indicated "ongoing competition from non-burger concepts," the report said.
Daypart breakdowns in the latest survey were in line with prior results, with meal-occasion spending around 2 percent at breakfast, 18 percent at lunch and 64 percent at dinner. The remainder of spending occurred at other points in the day.
"The majority of teens still dined out most frequently for dinner, which we believe has evolved to become a social tradition and a form of entertainment for teens, especially as discretionary spending has been reevaluated during recent times of increased economic pressures."
Among all upper-income respondents, Chick-fil-A was the most preferred brand. Upper-income female respondents chose Starbucks as the preferred brand at 20 percent, while male students picked Chick-fil-A as the preferred brand at 11 percent.
Brand preference among all average-income students was tie between Starbucks and Chick-fil-A at 9 percent each. That group's female respondents put Starbucks as the top-preference brand at 14 percent, and the male students chose McDonald's as the preferred brand at 8 percent.
"From a spending trend perspective, a majority (approximately 93 percent) of teens continue to perceive a maintained/increased level of spending at restaurants," the analysts said.
The survey indicated teens are spending about $13 a week at restaurants, down about 5 percent from the fall 2017 survey.
About 39 percent of students indicated their parents contributed the majority, or more than 75 percent, of their spending at restaurants, the survey said.
Source: NRN.com
Piper Jaffray, which has conducted the "Taking Stock With Teens" survey twice a year since 2009, noted the "long-term shift in preference toward limited-service brands" and a return to food taking the biggest bite out of upper-income teen wallets — matching a peak of 24 percent of spending, ahead of clothing at 20 percent.